Welcome To Rice Roots!

Vietnam - early 1969: the apex of an unwelcomed war. The absolute height of U.S. casualties. And the blessed end of an unwanted, tumultuous, bastard decade. American combat infantry advisors found themselves exposed to the same physical hardships and extreme dangers as their Vietnamese counterparts, whose casualty estimates had risen to as high as five times those of U.S military units.
This book is a true story, based on a daily diary that I kept while serving as a combat advisor to the South Vietnamese in Vietnam in 1969.
As chronicled in my diary and letters I sent home, I've made every effort to reconstruct the truthfulness and veracity of the exact circumstances and situations as they occurred during my one-year tour of duty that year. Most conversations in this memoir are, out of necessity, based on recollection. But to the best of my ability I know they'll help you capture the moment.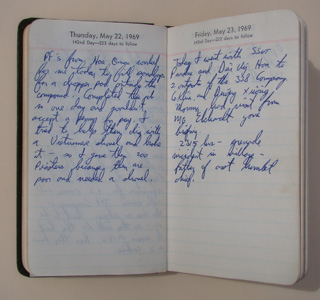 "Like some Vietnam Veterans, I have intrusive dreams sometimes, even after all these years.
The strangest of them involve an out-of-body experience in which I am the old man I am today, looking down on a very young man who is barely twenty-four years of age, young enough to be my grandson. I'm observing him from above, as if suspended from a boom, looking down on him from any angle I choose. He's in a war zone and he has a lot on his plate, and I can see what's happening around him.
I'm able to view his every move: what he's doing, where he's going, what he's thinking and even the decisions he's about to make. And I'm inside his head trying to warn him of things to come.
When my camera lens zooms in on him, I see he's dressed in olive-drab jungle fatigues and the sewn-on tapes on his shirt say "US ARMY" on one side and "AMON" on the other.
Good God! The young man in the dream is me!"
ALL RIGHTS RESERVED. COPYING, REPRODUCING, BORROWING OR USING ANY OF THE MATERIAL CONTAINED IN THIS WEBSITE AND/OR BOOK WITHOUT THE AUTHOR'S PERMISSION IS HEREBY STRICTLY PROHIBITED.