About the Author
Robert R. Amon Jr.
Robert R. Amon Jr. served in Vietnam in 1969 as a U.S. combat advisor to South Vietnamese allies. He is published in the New York Times best-selling Chicken Soup for the Veteran's Soul and served on the advisory board of the New Jersey Vietnam Veterans' Memorial and Educational Center.
He participates in panel discussions on the Vietnam War, has made guest appearances on TV and radio, and presents at high schools, colleges, veterans' groups and civic organizations.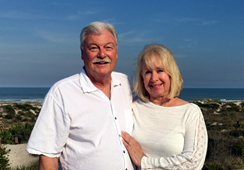 Robert (Bob) and Carolyn Amon are enjoying retirement and reside in Beach Haven, New Jersey in the summer and St. Augustine Beach, Florida in the winter. This enables them to remain close to their four children and seven grandchildren.
Robert and Carolyn can be emailed at amon@comcast.net
ALL RIGHTS RESERVED. COPYING, REPRODUCING, BORROWING OR USING ANY OF THE MATERIAL CONTAINED IN THIS WEBSITE AND/OR BOOK WITHOUT THE AUTHOR'S PERMISSION IS HEREBY STRICTLY PROHIBITED.