Return to Hoa Quan
Village
by Robert R. Amon Jr.
Published in Chicken Soup for the Veterans Soul
© 2001 Jack Canfield and Mark Victor Hansen
Thai Airways Flight 680 rumbled onto the runway at Tan Son Knut at 12:15 P.M. The trip had required much planning. It was 1993, and for Vietnam, the early 1990s were still the awkward, raw years—the dark days before the lifting of the embargo and the reestablishment of diplomatic relations that the nation's economy so desperately needed.
Ho Chi Minh City was alive with well-wishers on this bright, hot day. The locals still referred to the city as Saigon, showing their irreverence for the Communist government and harking back to better days, when the marketplace bustled with capitalism and enthusiasm.
My wife, Carolyn, and I had come to Vietnam to visit a village called Hoa Quan, where I had served during my tour of duty here. Back in 1969, as a lieutenant in charge of a five-man team of U.S. advisers, my job had been to accompany the 168th Regional Forces Company on all of their daytime patrols and night ambushes to help defend Hoa Quan Village from the Vietcong. My team not only fought alongside the South Vietnamese soldiers, but we also established relationships in the village with the elected officials and the monks at the pagoda. Our goal was to coordinate pacification of the area and preserve the freedom in Hoa Quan for which they so fiercely struggled.
The year 1969 had been one of the "hot years" for Vietnam combat. Together with 1968, it generated nearly half of the fifty-eight thousand names displayed in the quiet park off Constitution Avenue in Washington, D.C., the memorial most veterans now call the Wall. But South Vietnamese casualties during this period far exceeded our own. It had been my job during this time to be there for them, to call in air support, to bring in resupply and to be by their side when it was time to load them onto the medivacs.
When I'd left Vietnam in late 1969, I'd been uneasy about the civilians and soldiers that I'd left behind. Their situation was so hopeless, their losses so great—I felt that I was personally letting them down. This sense of failure had weighed heavily on my spirit for too many years.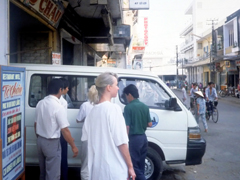 Now, I was making this journey to bring my Vietnam experience "front and center," to deal with it, to get it behind me. I couldn't imagine that Vietnam could hurt me anymore, having already dominated my thoughts for nearly a quarter century. The last leg of our expedition to Hoa Quan was by water. We approached the village, putt-putting along in the boat with four other men, part of an entourage we had accumulated in Ho Chi Minh City. Later, we found out they had been former Vietcong who were now government-paid "tour guides," a reward for their heroism during their American War.
After rounding a familiar bend in the canal, we passed what had been my living quarters at Hoa Quan, our "outpost," which had been nothing more than a triangular mud-walled fort surrounded by a moat. A new school stood where the old outpost had been.
At the center of the village, we had to check in at the Office of the People's Committee, a bombed-out French colonial building I recognized from 1969, when our 168th Regional Force soldiers rousted several VC out of the building with a grenade launcher.
Inside, we were introduced to the party chairman of Hoa Quan Village. In the old days, his post would have been the elected position of village chief. Now the job was a government appointment, held by a former Vietcong soldier named Vinh, whose right hand had been shot off during the war. He looked disdainfully at Carolyn and me, not liking this visit and the attention it brought from his superiors in Saigon.
I sensed he also disapproved of the enthusiastic welcome we were receiving from the village people. I explained that I had come to visit the village and the pagoda one more time, to rekindle friendships and to present the school with a gift of three hundred dollars. Finishing our interview with Vinh, Carolyn and I set out on foot for the short walk to the pagoda. I'd brought along a photo album with many pictures from 1969.
Being in Hoa Quan brought all my distressing memories back. I tried to shake them off, reminding myself, once again, of why I had come: I wanted to lay to rest the horrors that had occurred here and to see for myself that the people of Hoa Quan had no bitterness toward me or resentment for what we had tried to do there.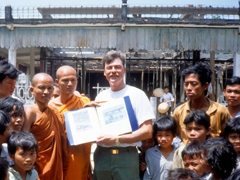 A crowd had now gathered around us, moving in unison as we arrived at the concrete slab in front of the pagoda. The monks greeted us as more people gathered, surrounding us and grabbing at the photo album. I felt the old pain stirring as I watched the crowd pass the photo album around. They pointed to the photos, chattering excitedly—identifying wives that had died fifteen years earlier, children who were now fully grown and others lost in the war. To my great pleasure, several remembered my team and smiled and shook my hand, thanking me for all the things we tried to accomplish in the village.
Then one of the young people began feverishly pointing to a picture of me with the platoon leader of the First Platoon, Thiêu Úy (Second Lieutenant) Hungl.
Lieutenant Hungl had been my counterpart at Hoa Quan for many months during my one-year tour. Hungl had repelled an attack on my life by a sniper in broad daylight, and Hungl's platoon had killed three Vietcong not one hundred meters from where I was now standing, the result of a failed ambush intended for the two of us. He had taken me on my first night ambush and taught me enough to keep my five-man team and me alive during what was the most terrifying and dangerous year of my life.
"This is my father," the young man said, pointing to Hungl in the picture. He had a twisted expression on his face.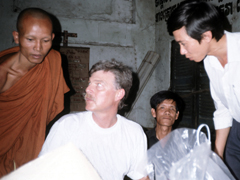 "Your father?" I cried, " Thiêu Úy Hungl is your father? Where is he? Can we go see him? I'd love to talk to him!" I was beside myself with joy. I remembered now that Hungl's wife had been blessed with a baby boy in 1969. I realized with shock that the man standing before me was that baby boy.
"No," Hungl's son said, "we can't. He is dead."
"Dead ?" I was stunned. "Dead ?"
"He was shot," he continued, "killed by the Vietcong in January of 1970."
That was a month after I had left Vietnam.
I gazed at Hungl's son. He stood dressed in bright orange robes, the attire of his profession. The young man of twenty-four years had become a monk at Hoa Quan, a guardian of peace and freedom, a teacher of the peace-loving Buddhist faith.
"I want you to have this picture of your father," I said. "As a remembrance." I handed him the picture, and he took it reverently, silently, with both hands. "Your father was a guardian
of freedom, a peace-loving man and a brave one."
Then, before I knew what was happening, we were embracing. We held each other and began sobbing like babies.
When I had left this village the first time, I had taken with me a restlessness and sadness that the years had done little to ease. When I left for the second time, I possessed an inner peace, a peace that remains to this day and that was given to me by the child of the man whose country we so desperately tried to free.
For me, the war was finally over.
ALL RIGHTS RESERVED. COPYING, REPRODUCING, BORROWING OR USING ANY OF THE MATERIAL CONTAINED IN THIS WEBSITE AND/OR BOOK WITHOUT THE AUTHOR'S PERMISSION IS HEREBY STRICTLY PROHIBITED.