Foreword
By Col. Bill Stanberry, U.S. Army, Retired
"I had never known a soldier who kept a diary every day for a year while in combat, especially one living in an insecure mud-walled revetment with four other soldiers. These soldiers were embedded among South Vietnamese troops and civilians with uncertain loyalties. This very dangerous environment is the setting for this story. The year was 1969, and the soldier maintaining a daily log of events was First Lieutenant Robert Amon.
I learned that there was such a diligent journal-keeper exactly fifty years after the fact, when I got a call from Lieutenant Amon informing me that he was writing a book. Because I was his commanding officer and mentioned throughout, he was asking permission to use my name. I remembered Lt. Amon as being the best of the best team leaders in Kiến Giáng Province, where I was senior advisor to the province chief.

After reading the manuscript and examining his weathered, age-worn diary, I agreed to his request to use my name. Moreover, his relation of events, of which I had personal knowledge, is remarkably factual and unblemished by any exaggeration to make himself a hero. The authenticity of this book, written by using the lead-in of his daily diary entries, persuaded me to enthusiastically offer to endorse his book.

Lt. Amon reported to me in Rạch Giá, the provincial capital city, on February 12, 1969, for an infantry assignment with a Military Advisory Team (MAT). I observed during my interview that he had an unusually clear grasp of the pacification concept of "winning the hearts and minds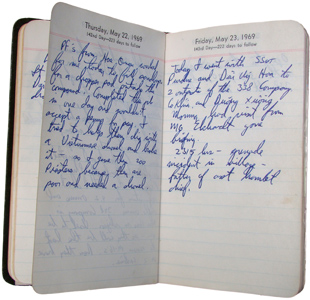 " of the community and religious leaders, the military, and the people whom he was to advise and support. This mission differed from that of conventional military units in Vietnam whose major mission was to destroy the enemy and provide security in a designated area of operation.

I assigned Lieutenant Amon to MAT 88, a five-man team embedded with usually less than sixty mostly untrained recruits who were often equipped with weapons inferior to those of the VC. The team was on the edge of the U-Minh Forest, an uncontested VC hideout in South Vietnam's Delta. His team was housed in a crude shelter in an outpost surrounded by a mud berm and moat. Their primary means of communication was through an interpreter.

In his role as advisor to the military, Lt. Amon participated in almost daily patrols and weekly night ambushes. Lt. Amon's effectiveness and noteworthy progress made MAT 88 the site to which I sent all senior officers and other official VIP visitors to see how pacification could be successfully accomplished.
Bob Amon's interesting style of handwritten diary entries followed by extremely well-written narration results in the most unembellished, authentically believable story by this modest, unsung hero working at the "grass roots" level in a book aptly titled "Rice Roots." This book should be read by military officers and history scholars to understand precisely how pacification can be an effective strategy. To that end, I highly recommend Rice Roots as required reading at the United States Army War College in Carlisle, Pennsylvania."
Col. Bill Stanberry, U.S. Army, Retired
ALL RIGHTS RESERVED. COPYING, REPRODUCING, BORROWING OR USING ANY OF THE MATERIAL CONTAINED IN THIS WEBSITE AND/OR BOOK WITHOUT THE AUTHOR'S PERMISSION IS HEREBY STRICTLY PROHIBITED.